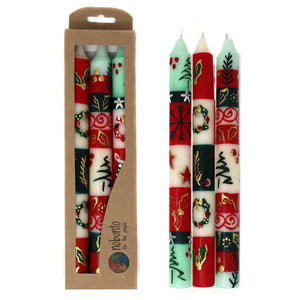 Hand Painted Candles from Napier South Africa
---
Candles measure approximately 9-inches tall.
Unscented, high-quality, fully-refined paraffin wax from Germany.
Non-toxic color pigments and natural wicks.
Individually hand-painted. Designs will have differences, but will be consistent in colors and icons that reflect the style.
Creates a calm ambiance that transforms any space into a personal sanctuary.
Burn time averages 10 hours. 
High melting point of  58°- 60°.
Use care when burning candles. Do not leave a burning candle unattended; snuff out flame when done burning; do not move burning candle; always use a candle holder when burning. 
The Story Behind the Art:
Each candle is hand poured and hand painted by South African artisans with years of experience. After the candles are poured, they are handed off to the special background painters, who paint the entire wax candle with a base color that sets the tone for the design work that comes next. Masterful artists then paint the designs on each piece. It is truly exciting to watch the lightening-fast strokes of the paintbrushes transform what was molten wax into gorgeously colorful, individualized works of art!
---
| | |
| --- | --- |
| | |
---
---